04 Oktober 2021Connor Richards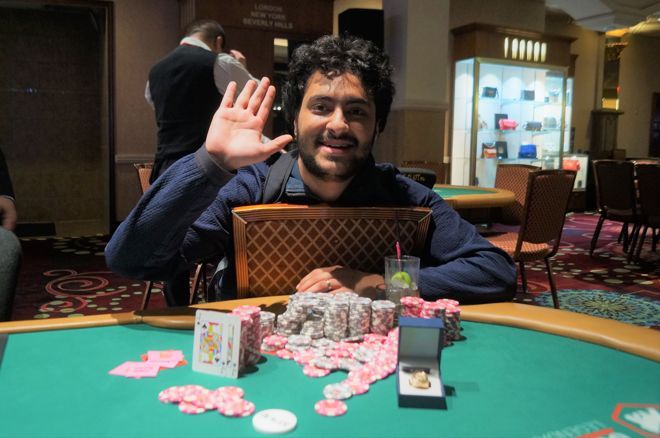 Dua dari 11 acara gelang online WSOP pertama memahkotai juara mereka pada 3 Oktober, Martin "Bathroomline" Zamani dan "NJ_AcesmarkA" menjadi dua pemain terakhir di acara masing-masing. Itu adalah gelang nomor dua untuk Zamani, sementara NJ_AcesmarkA mengamankan perhiasan poker pertama mereka.
Pusat Pelaporan Langsung WSOP 2021
Ikuti semua aksi langsung yang terjadi dari World Series of Poker 2021 di Las Vegas!
Zamani Menang dalam Pembekuan Online Hold'em Tanpa Batas $5.300
Martin "Bathroomline" Zamani dari Boca Raton, Florida mendapatkan gelang World Series of Poker (WSOP) keduanya Senin pagi dengan mencatat WSOP.com (NV/NJ) Online Bracelet $5.300 NL Hold'em Freezeout seharga $210.600. Zamani mengunci gelang dan skor enam angka setelah mengalahkan Ankush "Rickrosstheb" Mandavia dalam pertarungan singkat. Untuk finis runner-up, Mandavia menguangkan $122.850.
Turnamen online satu hari, satu entri menarik 156 pelari dan membayar 30 pemain. Permainan berlangsung selama hampir 11 jam dan kemudian meja final dimulai dengan delapan pemain tersisa.
Soheb "TommyConway6" Porbandarwala tersingkir pada gelembung meja terakhir ketika ratu sepuluhnya tidak bisa mencapainya melawan raja delapan Calvin "proyektor52" Anderson, yang akhirnya selesai di tempat keempat dengan $54.600.
Zamani, yang mengalahkan WSOP.com Event #19: PLO Crazy Eights – 8 Handed pada bulan Juli seharga $92.598, tetap diam selama sekitar satu jam pertama permainan di meja final dan menang besar ketika dia mengalahkan Anderson dengan dua -pasangan melawan pasangan teratas.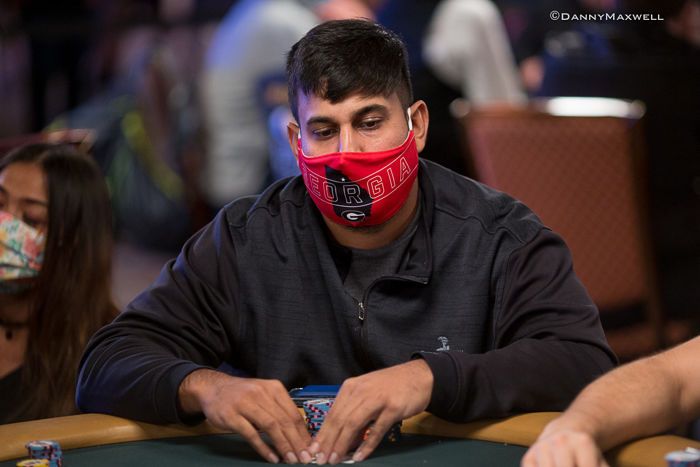 Ankush Mandavia harus puas di posisi kedua.
Tidak lama kemudian, Zamani memenangkan pukulan penting untuk menyingkirkan Brian "JackBogle" Altman di tempat ketiga dan memasuki permainan head-up dengan keunggulan chip yang besar. Dia menyingkirkan Mandavia ketika dia berhasil dengan jack-seven melawan king-five dan gagal.
Jason "EddieVedder" Koon dan Alex "OrcinusOrca" Foxen keduanya membuat tabel final dan tersingkir di tempat keenam dan kedelapan, masing-masing. Pemain terkenal lainnya di lapangan yang tidak mencapai meja final termasuk Daniel "Dnegs" Negreanu dan Connor "666666" Drinan, yang multi-tabling dan akhirnya mengalahkan Event #5: $1.500 Omaha Hi/Lo 8 or Better.
WSOP.com (NV/NJ) Online Bracelet $5.300 NL Hold'em Freezeout Hasil Akhir
"7NamaNegaraHadiah (USD) 1Martin "Bathroomline" ZamaniAmerika Serikat$210.600 2Ankush "Rickrosstheb" MandaviaAmerika Serikat$122.850 3Brian "JackBogle" AltmanAmerika Serikat$70.200 4Calvin "projector52" AndersonAmerika Serikat$54.600 5Daniel "spicoli24" SepioldAmerika Serikat$46.800 KuetherAmerika Serikat$29.640 8Alex "OrcinusOrca" FoxenAmerika Serikat$18.720
Baca akun pukulan demi pukulan dari Gelang Online $ 5.300 NL Hold'em Freezeout
"NJ_AcesmarkA" Memenangkan Emas WSOP di WSOP.com (NV/NJ) Gelang Online $500 NL Hold'em BIG 500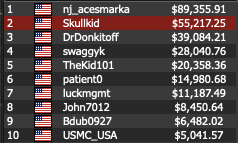 Gelang Online $500 NL Hold'em BIG 500 Hasil
Setelah hampir 12 jam beraksi di WSOP.com, "NJ_AcesmarkA" mengalahkan "Skullkid" memimpin untuk mengklaim turnamen online kedua dari akhir pekan pembukaan World Series of Poker 2021. Sang juara bertahan lebih lama dari 742 pemain dan 325 pembelian ulang untuk memenangkan gelang emas WSOP dan hadiah utama $89.356 dari kumpulan hadiah $480.150 di Gelang Online WSOP.com (NV/NJ) $500 NL Hold'em BIG 500.
Di antara 742 peserta adalah sejumlah besar juara berhias yang membuat kehadiran mereka terasa di akhir turnamen. Pemenang gelang emas WSOP Brent "UncleRon" Hanks (24 – $2,593), David "vincevegas" ODB Baker (14 – $3,985), dan mantan juara acara utama Ryan "BitC0in" Riess (11 – $5,042) semuanya melaju kencang tetapi jatuh kekurangan mengumpulkan lebih banyak emas WSOP. Juara WSOP enam kali Daniel "DNegs" Negreanu mencetak gol sepanjang hari tetapi selesai di tempat ke-54 setelah goyah di peregangan terakhir.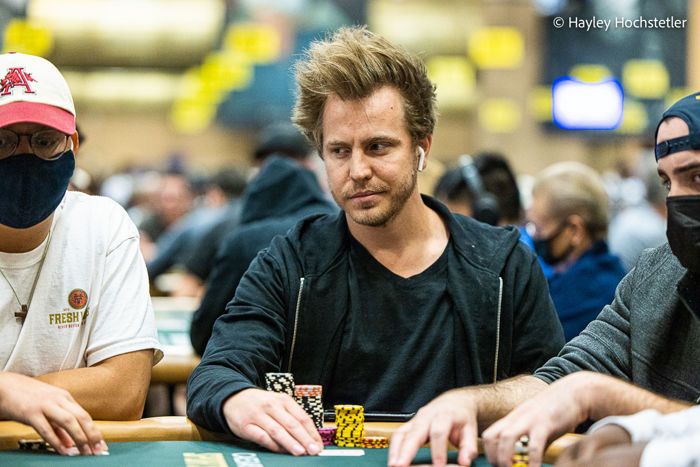 Jeremy Pekarek finis kelima dengan $ 20,358
Aksi meja terakhir berlangsung dengan cepat dengan penghapusan "BDub0927" ketika "DrDonkitoff" mengubah kartu as untuk menghancurkan ratu saku. Juara WSOP tunggal meja final Jeremy "Thekid101" Pekarek segera menyingkirkan Giovanni "John7012" Balistreri di tempat kedelapan dan Melissa "LuckMgmt" Bryne tersingkir di ketujuh setelah menjalankan mengesankan.
Titik balik untuk pemimpin chip meja final "NJ_AcesmarkA" dan "Skullkid" datang ketika enam pemain tersisa dan "NJ_AcesmarkA" menangkap Jesse "Patient0" Yaginuma dengan raja saku. "Skullkid" menyingkirkan Pekarek di tempat kelima dengan uang saku puluhan dan "NJ_AcesmarkA" mengirim "SwaggyK" ke rel di tempat keempat dengan berbelok lurus.
"NJ_AcesmarkA" memperpanjang keunggulan di awal permainan tiga tangan dan segera menyingkirkan "DrDonkitoff" di tempat ketiga dengan sepasang delapan gagal. "Skullkid" mulai memimpin dengan defisit dan berjuang keras untuk mendapatkan keuntungan selama hampir 30 menit, tetapi "NJ_AcesmarkA" menangkis tantangan dan menutup kesepakatan pada gelang emas WSOP tak lama setelah pukul 5 pagi PT.
WSOP.com (NV/NJ) Gelang Online $500 NL Hold'em BIG 500 Hasil Tabel Akhir
"NamaTempatNegaraHadiah1"NJ_AcesmarkA"Amerika Serikat$89.3562"Skullkid"Amerika Serikat$55.2173"DrDonkitoff"Amerika Serikat$39.0844"SwaggyK"Amerika Serikat$28.0415Jeremy "Thekid101" PekarekAmerika Serikat$20.3586Jesse "Patient0″ LuckMgmt" BryneAmerika Serikat$11,1878Giovanni "John7012" BalistreriAmerika Serikat$8,4519"BDub0927"Amerika Serikat$6,482
Hidupkan kembali semua aksi dari Acara BIG 500 Online