06 Oktober 2021Jason Glatzer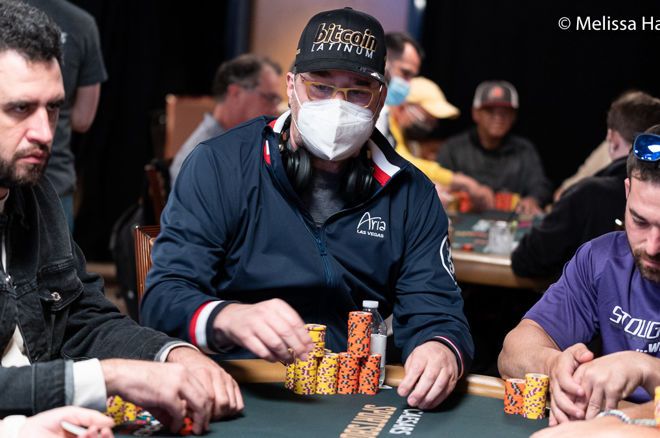 Hari ke-6 dari World Series of Poker (WSOP) 2021 di Las Vegas, Nevada yang luar biasa, menyaksikan Rio All-Suite Hotel & Casino penuh dengan lima acara penuh aksi yang berlangsung.
Tiga pemain menemukan rasa emas WSOP pertama mereka pada hari Selasa termasuk Acara pengiriman Long Ma #4: $500 Reunion seharga $513.604 dan Jaswinder "Jesse" Lally mengklaim hadiah utama $97.915 untuk gelang pertama Kanada di Acara #7: $1.500 Dealer Choice. Sementara itu, Michael Perrone mengamankan gelang pertamanya Selasa malam setelah menjadi pemain terakhir yang bertahan dalam maraton 16 jam, Acara satu hari #10: $1.000 Super Turbo Bounty seharga $152.173.
Dalam berita lain, Event #8: $600 Deepstack turun menjadi hanya lima calon, sementara Phil Hellmuth masih bergabung dengan 18 pemain tersisa di Event #10: $10,000 LO8 Championship. Event #11: $25.000 Heads-Up No-Limit Hold'em Championship turun ke Babak 16 dan Event #12: $1.500 Limit Hold'em masih memiliki 135 pemain tersisa.
Teruslah membaca untuk mengetahui apa yang terjadi dalam acara yang sedang dimainkan.
Pusat Pelaporan Langsung WSOP 2021
Ikuti semua aksi langsung seperti yang terjadi dari World Series of Poker 2021 di Las Vegas!
Zhi Wu Memimpin Lima Terakhir di Acara #8: $600 Deepstack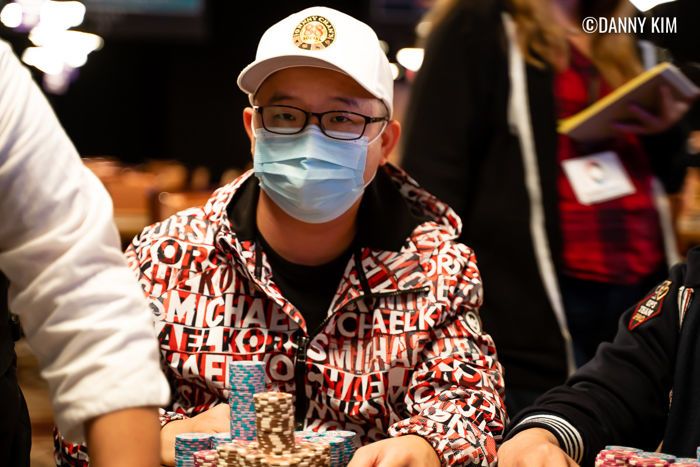 Zhi Wu
Acara #8: $600 No-Limit Hold'em Deepstack menarik 4.527 entri dan menghasilkan kumpulan hadiah $2.309.280 membayar 680 pemain teratas yang dijamin setidaknya $960 dan hadiah utama $281.604.
Hanya lima pemain yang selamat dari lapangan pembukaan Hari 2 dari 216 pemain setelah 12 jam bermain dengan Zhi Wu menuju ke meja final hari Rabu sebagai pemimpin chip dengan 46.100.000 chip. Chrishan Sivasundaram (31.500.000) paling dekat di belakang Wu dengan Ryan Chan (29.200.000) tidak terlalu jauh di belakang.
Sementara itu, Nicholas Zautra (15.000.000) dan Ari Mezrich (13.900.000) melengkapi lima besar.
Acara WSOP 2021 #8 Lima Pemain Terakhir
SeatPlayerChip Count1Chrishan Sivasundaram31,500,0002Nicholas Zautra15,000,0003Zhi Wu46,100,0004Ryan Chan29,200,0005Ari Mezrich13,900,000
Turnamen menarik pemenang gelang masa lalu seperti Asi Moshe, Joey Weissman, dan Craig Varnell, tetapi semuanya keluar dari turnamen sebelum meja final.
Lima finalis kembali ke Hari 3 pada Rabu, 6 Oktober 2021, pukul 4 sore untuk memperebutkan gelang emas yang didambakan. Tirai akan menjadi 800.000/1.600.000/1.600.000.
Nantikan liputan lebih lanjut tentang acara ini dan seluruh World Series of Poker 2021 dari Tim Pelaporan Langsung PokerNews.
Baca di Hari 2 dan ikuti hari terakhir dari $600 NLHE Deepstack di sini
Perburuan Hellmuth untuk Gelang #16 saat Yeh Memimpin Dua Meja Final Event 9: $10K LO8 Championship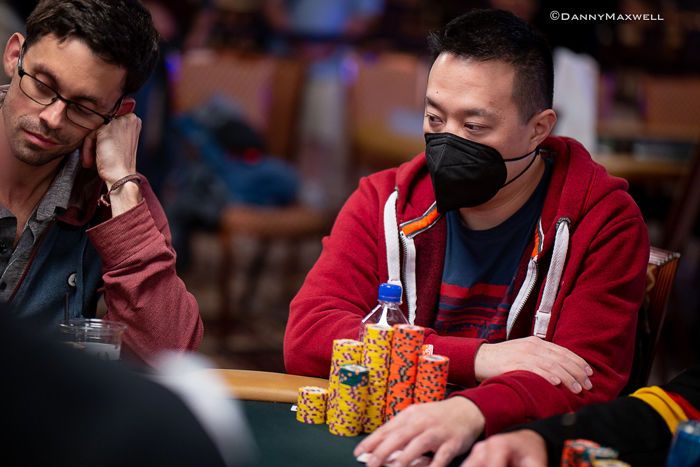 Andrew Yeh
Hari 2 Acara #9: Kejuaraan LO8 $10,000 secara resmi berakhir dengan Andrew Yeh memimpin 18 pemain terakhir memasuki Hari ke-3. Yeh akan berusaha untuk meningkatkan finis ke-11 dari acara yang sama di tahun 2019.
Hari kedua dimulai dengan 73 pemain, termasuk beberapa wajah baru yang memilih untuk mendaftar di awal hari daripada bermain di Hari 1. Ini membawa jumlah total entri menjadi 134 — menghasilkan kumpulan hadiah $1.193.600 dengan yang pertama- hadiah tempat sebesar $317.076.
Acara WSOP 2021 #9 Hari 2 Jumlah Chip 10 Teratas
PeringkatPlayerCountryChips1Andrew YehAmerika Serikat995,0002Ari EngelKanada650,0003Christopher VitchAmerika Serikat640,0004Ben LandowskiAmerika Serikat630,0005Ken AldridgeAmerika Serikat595,0006Aditya PrasetyoAmerika Serikat560,0007Eddie BlumenthalAmerika Serikat555,0008Phil HellmuthAmerika Serikat550,0009Khamar Amerika Serikat485,0009Khamar Amerika Serikat
Struktur yang dalam dan level yang panjang dari acara kejuaraan ini memastikan kecepatan yang lambat dan stabil, yang mengarah pada eliminasi bertahap sepanjang hari. Beberapa tokoh terkenal yang memulai hari tetapi gagal menghasilkan uang termasuk Daniel Negreanu, Shaun Deeb, David Benyamine, Bart Hanson, juara bertahan Frankie O'Dell, dan Mike Matusow — yang berhasil menjaga tumpukan pendek untuk sebagian besar hari sebelum akhirnya mengalah pada Chris Vitch di sore hari.
Ryan Laplante, Ben Yu, dan Mark Gregorich semuanya berhasil menyelundupkan uang demi uang tunai tak lama setelah Tom Koral menggelembung.
Ada 30 gelang emas World Series of Poker antara petarung yang tersisa, yang tentu saja termasuk Phil Hellmuth, yang akan mencari untuk menambah nomor 16. Lainnya masih dalam pertarungan termasuk Brian Rast, Ken Aldridge, Paul Volpe, Dylan Linde, dan Robert Mizrachi, yang baru saja menempati posisi ketiga di Acara #5: $1.500 Omaha Hi-Lo 8 atau Lebih Baik.
Hari 3 diatur untuk dilanjutkan pada pukul 3 sore besok dan diputar hingga hanya tersisa lima pemain. Pastikan untuk tetap menggunakan PokerNews karena kami terus memberikan Anda semua sendok, perempat, dan KO di sini di Rio All-Suite Hotel and Casino.
Baca di Hari 2 dan ikuti untuk melihat siapa yang memenangkan Kejuaraan LO8 $10K
Koon Maju ke Babak 16 Besar di Event #11: $25.000 Head-Up No-Limit Hold'em Championship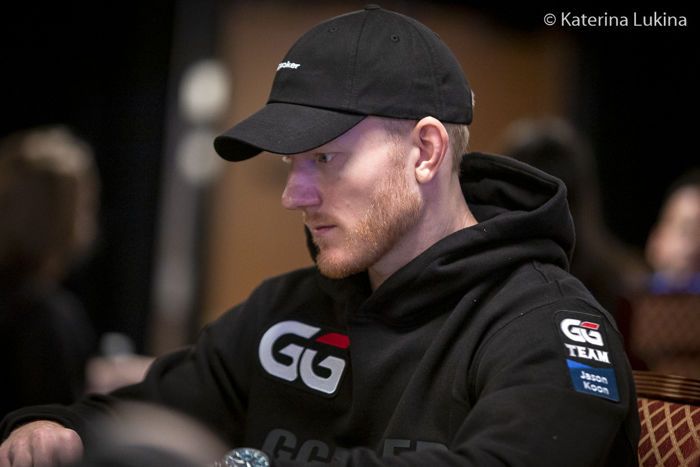 Jason Koon
Sebanyak 57 pemain mengumpulkan $25.000 buy-in yang besar dan kuat untuk Acara # 11: $25.000 Heads-Up No-Limit Hold'em Championship. Di lapangan bertabur bintang ini, delapan pemain akan menghasilkan uang, dengan pemenang ditetapkan untuk membawa pulang $243.981.
Hari 1 dimainkan melalui 2 putaran turnamen bergaya braket, dengan 16 pemain bertahan untuk maju ke Hari 2. Pemain terkenal yang maju termasuk Duta Besar GGPoker Jason Koon, pendiri PokerGO Cary Katz, Dan Zack, Jimmy D'Ambrosio, Jake Daniels, Galen Hall, dan Johannes Becker.
Sisa Pembayaran
TempatPrize1$243,9812nd$150,7903-4th$89,7875th-8$36.820
Untuk memulai hari, pemain diberikan undian acak, dengan tujuh pemain diberikan bye. 50 pemain lainnya akan secara otomatis menguangkan $ 25.000 dengan kemenangan.
Babak pembukaan memiliki banyak pertarungan yang menarik, disorot oleh pertandingan lebih dari empat jam antara Bertrand Grospellier dan Jimmy D'Ambrosio. D'Ambrosio akhirnya muncul sebagai pemenang untuk menutup babak play-in.
Untuk babak 32 besar, ada meja yang digambar ulang untuk mengatur braket terakhir. Beberapa pertarungan termasuk Nick Petrangelo vs. Dan Zack, Seth Davies vs. Jake Daniels, dan Jonathan Jaffe vs. David Peters.
Babak 16 besar akan dilanjutkan pada pukul 14:00 waktu setempat, dengan pukul 7 malam restart untuk Babak 8.
Baca di Hari 1 dan ikuti Hari 2 Kejuaraan Heads-Up $25K di sini
Jeremy Maher Mengalahkan Anthony Zinno untuk Chip Lead Hari 1 Acara #1: $1.500 Limit Hold'em
Hari 1 Acara WSOP #12: Batas Hold'em $1.500 telah berakhir. Acara ini menarik bidang 422 entri untuk total hadiah $563.370. Sekitar 135 penyintas akan kembali untuk Hari 2 pada hari Rabu, 6 Oktober pukul 2 siang waktu setempat, di mana mereka dijadwalkan untuk bermain sepuluh level 60 menit.
Jeremy Maher mengantongi keunggulan chip Hari 1 dan akan menuju ke hari kedua dengan tumpukan sehat 226.000 dengan Anthony Zinno (217.500) mendekatinya. Pilihan tumpukan terkenal lainnya menuju Hari 2 termasuk Aldon Patatanyan (190.000), Mori Eskandani (173.500), Yuval Bronshtein (141.500), dan Barry Greenstein (86.500).
Acara WSOP 2021 #12 Hari 1 Jumlah Chip 10 Teratas
RankPlayerCountryChips1Jeremy MaherAmerika Serikat226,0002Anthony ZinnoAmerika Serikat217,5003Truong TranAmerika Serikat195,0004Kristopher BurchfieldAmerika Serikat194,5005John BunchAmerika Serikat192,5006Aldon PatatanyanAmerika Serikat190,0007John EspositoAmerika Serikat187,5008Amerika SerikatMori Eskan500
Namun, tidak semua pemain cukup beruntung untuk mencapai hari lain. Beberapa pemain yang gagal mengantongi tumpukan termasuk Daniel Negreanu, Shaun Deeb, Allen Kessler, Adam Friedman, dan juara bertahan David "ODB" Baker.
Hari 2 akan dimulai kembali pada pukul 2 siang waktu setempat dan total 64 pemain akan mendapatkan uang, dengan min-cash senilai $2.406. Pemain yang tersisa juga akan semakin dekat untuk menentukan pemenang yang akan membawa pulang $124,374 selain gelang emas mengkilap.
$1.500 Batas pembaruan Hold'em ada di sini!