05 Oktober 2021Adam Lamers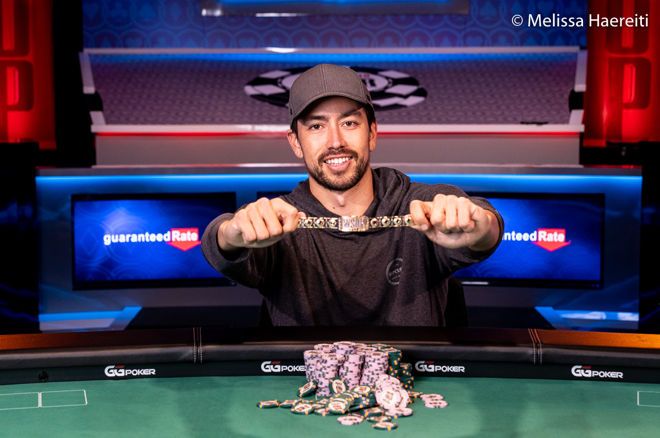 Acara World Series of Poker (WSOP) 2021 # 6: $ 25.000 High Roller No-Limit Hold'em menarik 139 entri, yang menghasilkan kumpulan hadiah $ 3.283.875. Setelah tiga hari bermain, pemain pro poker berusia 33 tahun Tyler Cornell mengklaim kemenangan seharga $833.289 dan gelang emas pertamanya.
"Rasanya luar biasa," kata Cornell setelah kemenangan. "Saya sudah mencoba melakukan ini sejak lama dan akhirnya menang."
Cornell, yang berasal dari daerah San Diego dan bermain di Ocean's 11, memulai karir pokernya secara online sebelum beralih ke permainan uang langsung. Ketika pandemi melanda, ia membawa permainannya kembali ke nuansa virtual, yang dibuktikan dengan daftar hasil cucian dalam acara gelang online termasuk Acara WSOP GGPoker.com tahun lalu # 77: Acara Utama $ 5.000 di mana ia selesai di tempat kedelapan dengan $ 328.305 .
Cornell menang atas meja final bertumpuk, yang terbukti menjadi urusan berayun dengan banyak orang yang memegang keunggulan chip.
"Benar-benar tidak sampai satu jam terakhir," kata Cornell saat ditanya kapan bisa mencicipi kemenangan. "Saya merasa seperti baru menguasai meja dalam satu jam terakhir."
Meski menang di turnamen ketiga yang ia mainkan di WSOP 2021, Cornell tidak berniat memasukkan jadwal penuh. Sebaliknya, dia akan kembali ke rumah dan melakukan perjalanan atau dua kembali ke Vegas untuk bermain mungkin empat atau lima acara lagi.
Pusat Pelaporan Langsung WSOP 2021
Ikuti semua aksi langsung seperti yang terjadi dari World Series of Poker 2021 di Las Vegas!
Hasil Tabel Final Acara WSOP #6 2021
PlacePlayerCountyPrize1Tyler CornellAmerika Serikat$833,2892Michael LiangAmerika Serikat$515,0143Adrian MateosSpanyol$381,8704Jonathan JaffeAmerika Serikat$286,2025Mustapha KanitItalia$216,8426Mohammad AraniAmerika Serikat$166,1027Paul NeweyInggris Raya
Lainnya untuk menguangkan turnamen adalah Duta Besar GGPoker baru Jason Koon (9 – $ 79,834), Darren Elias (12 – $ 51,866), pemimpin chip Hari 1 Jake Daniels (14 – $ 45,382), Stanley Tang (19 – $ 41,492), dan Sam Grafton (21 – $41.492).
Momen Viral WSOP 2021: George McBride Menangis Air Mata Kegembiraan Setelah Menguangkan Reuni
Aksi Hari 3
Pada hari Senin, lima pemain terakhir kembali ke panggung utama di Rio All-Suite Hotel & Casino untuk acara streaming langsung PokerGO pertama dari WSOP 2021. Tidak butuh waktu lama bagi Mustapha Kanit untuk menjadi korban meja final pertama setelah melakukan kegagalan tinggi ratu dengan ace-king hanya untuk melihat Jonathan Jaffe mengajukan pasangan teratas, yang bertahan.
Meskipun memenangkan tangan itu, Jaffe adalah yang berikutnya. Dia kehilangan sebagian besar chipnya setelah gertakan triple-barrel yang gagal dan kemudian sisanya dengan king-five yang cocok melawan Big Slick dari Michael Liang yang cocok.
Pemenang gelang tiga kali Adrian Mateos tersingkir di tempat ketiga setelah membatalkan preflop tumpukan pendeknya dengan ace-nine hanya untuk melihat meja Cornell mengantongi sembilan. Pasangan ini memegang teguh dan itu membuat pertandingan head-up dengan Cornell memegang keunggulan chip 9:1 atas Liang.
Liang berhasil bertahan sebentar tetapi akhirnya menyerah di tempat kedua dengan $ 515.014.
Selamat kepada Tyler Cornell, pemenang Acara WSOP 2021 #6: $25.000 High Roller No-Limit Hold'em!