24 September 2021Jon Sofen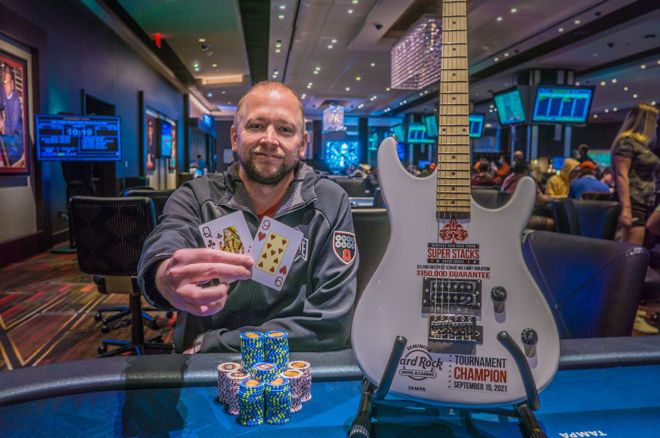 Thomas Elder mendapatkan kemenangan "terobosan" selama seri poker Seminole Hard Rock Tampa September Super Stacks yang baru saja selesai. Dia adalah pemenang terbesar dari tujuh pemain yang keluar sebagai pemenang di ruang kartu Florida Tengah yang populer.
SHRT adalah salah satu kamar poker teratas di Tenggara, dan telah menjadi tuan rumah bagi beberapa turnamen besar termasuk acara Tur Poker Dunia senilai $3.500 pada bulan Juni. Brian Altman, WPT Player of the Year yang berkuasa, mengirimkan trofi seharga $ 613.225, mengalahkan 1.165 entri.
Kerja Keras Terbayar untuk Juara
Taruhannya tidak cukup tinggi selama seri mini baru-baru ini di SHRT seperti halnya untuk acara WPT, tetapi kehidupan satu pemain mungkin telah berubah karena hasil akhir seri. Elder, seorang Floridian, muncul untuk Acara Utama Hold'em Tanpa Batas $1.700 pada tanggal 16 September dengan kurang dari $13.000 di Hendon Mob mencatat uang tunai turnamen langsung.
Peluang Elder untuk menang tidak tinggi. Dia melawan 322 pemain lain, banyak di antaranya adalah veteran turnamen berpengalaman. Namun, ia mampu bekerja dengan cara ke meja final Senin. Sekali lagi, dia menentangnya. Dia memulai meja final dengan hanya 14 tirai besar dan memiliki beberapa pemain berbakat untuk bersaing, termasuk Nick Palma dan penghancur Sirkuit WSOP Maurice Hawkins.
Namun, poker adalah permainan yang tidak dapat diprediksi. Elder bertarung di meja final, dia berlari kencang, dan mengalahkan delapan pemain lain yang semuanya bersaing untuk hadiah tempat pertama $ 101.865 dan piala yang menyertainya. Hasil tabel akhir:
$1.700 Hasil Tabel Final Acara Utama
TempatPemainHadiah1Thomas Elder$101,8652Nick Palma$67,9003Likang Berninger$49,8154Maurice Hawkins$37,0105Herbert Woodberry$27,8506Anthony Astarita$21,2357Karl Manouchakian$16,4008Hal Rotholz$12,8409Micha
Elder sangat gembira untuk mencetak kemenangan terbesar dalam karirnya. Dia mengatakan di Twitter bahwa dia telah bekerja keras selama beberapa bulan terakhir untuk permainannya – kerja keras yang jelas membuahkan hasil.
Saya telah menjadi pemain poker yang rajin untuk waktu yang lama. Saya mulai mendedikasikan waktu dan sumber daya selama beberapa bulan terakhir… https://t.co/gsqnmOz49D
— Thomas Elder (@thomaselder80)
Seri Sekilas
Seri September Super Stacks di Seminole Hard Rock Tampa terdiri dari tujuh event, termasuk Main Event. Setiap pemenang dari seri ini tercantum di bawah ini:
Pemenang TurnamenHadiah$400 NLHDaniel Clemente$38.015$150 Turbo NLHWally Maddah$3.400$150 NLHJeremy Becker$27.200$150 NLHJayson Jones$2.009$1.700 NLH Acara UtamaThomas Elder$101.865$250 NLHKyle Rignola$7.936-$150 NLHTerri
Seminole Hard Rock Tampa akan menjadi tuan rumah seri lain pada bulan Oktober, dan yang ini untuk tujuan yang baik selama WSOP 2021 bagi mereka yang tidak melakukan perjalanan ke barat ke Las Vegas.
Pinktober Poker Open dari 14-25 Oktober menjamin setidaknya $275.000 hadiah uang yang diberikan, dan semua hasil yang diperoleh selama seri ini akan disumbangkan kepada American Cancer Society.
*Gambar milik Seminole Hard Rock.