02 Oktober 2021Jon Sofen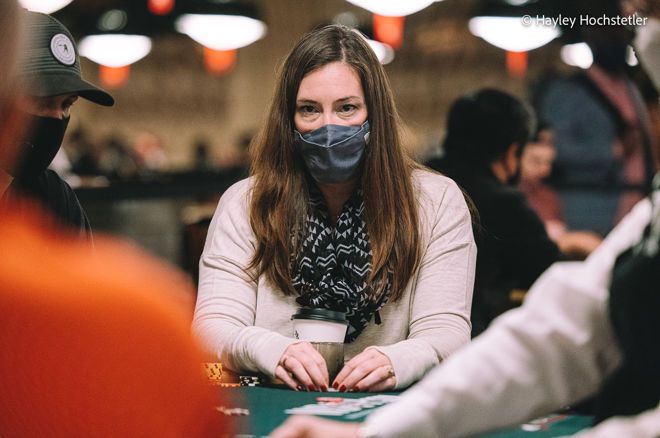 Pengusaha wanita Colorado Ashley Colpaart, seperti banyak lainnya, menemukan dan jatuh cinta dengan permainan poker selama periode penguncian COVID-19. Kurang dari dua tahun kemudian, dia mencoret item daftar ember — bermain di World Series of Poker.
Dengan kebosanan yang melanda jutaan orang di seluruh dunia di awal tahun 2020, banyak yang menemukan hobi baru. Dalam kasus tertentu, itu adalah poker. Permainan rumah online pribadi mulai bermunculan menggantikan poker langsung, yang terhenti karena pandemi. Untuk Colpaart, dia diundang ke komunitas poker pribadi selama waktu di mana tidak banyak yang bisa dilakukan.
Pemilik Bisnis Pertama
Colpaart, yang duduk untuk wawancara dengan PokerNews selama kunjungan pertamanya ke Rio, adalah seorang pengusaha sukses yang memiliki The Food Corridor, sebuah konsep unik untuk manajer dapur bersama.
"Saya berasal dari makanan, seluruh latar belakang saya cukup banyak dalam sistem makanan dan makanan," kata Colpaart. "Saya sangat tertarik dengan pangan lokal dan ekonomi pangan lokal. Saya sedang mengerjakan PhD saya di Colorado State University dalam sistem pangan. Untuk proyek saya, saya melihat aset yang kurang dimanfaatkan di bidang pangan dan bagaimana mereka dapat dimanfaatkan untuk mendukung ekonomi pangan lokal dan saya mendapatkan pembagian ekonomi ini di ruang pangan."
Food Corridor, kebanggaan dan kegembiraannya, mengelola ruang dapur bersama dengan mudah. Bisnisnya menyederhanakan proses untuk pemilik dapur bersama, membantu mereka dalam berbagai cara, termasuk melacak pembayaran dan tugas bisnis lain yang memakan waktu.
Menemukan Gairah Baru
Pada hari Sabtu, Colpaart mengambil tempat di Acara #4: $500 The Reunion No-Limit Hold'em, acara World Series of Poker pertamanya. Dengan melakukan itu, dia mencoret item daftar ember. Tapi dia tidak akan pernah menduga dia akan bermain di turnamen poker beberapa tahun yang lalu.
"Saya suka permainan secara umum, kami memiliki malam permainan papan dan hal-hal seperti itu," kata Colpaart tentang minatnya pada poker sebelum pandemi. "Jadi, saya bermain poker di masa lalu, tetapi tidak pernah untuk uang tunai atau taruhan nyata."
Setelah Colpaart menyelesaikan PhD-nya, penasihatnya memberi hadiah perjalanan ke Las Vegas untuknya dan suaminya, di mana dia akan mencoba poker langsung untuk pertama kalinya, permainan uang di Bellagio.
Selama penguncian coronavirus 2020, dia diperkenalkan ke komunitas poker yang dijuluki "Fish Fry," yang penuh dengan anggota yang menyukai permainan poker. Grup pribadi menawarkan turnamen reguler dan permainan uang online, yang sering ia mainkan. Selama periode inilah pengusaha menjadi terpesona dengan permainan.
Selama penguncian COVID, saya mengambil permainan poker. Seorang teman dari Twitter dan dunia karir saya (… https://t.co/jZ1TQztgQr
— Ashley Colpaart (@ashleyrdtx)
Game yang Sulit untuk Dikuasai
Seperti yang dia jelaskan di utas Twitter yang panjang baru-baru ini, dia mulai menonton lebih banyak poker di aplikasi PokerGO dan mendaftar untuk kursus Pelatihan Poker Jonathan Little. Saat dia mulai bermain lebih teratur, dia mengetahui bahwa permainan itu sulit untuk dikuasai, tetapi memberi kami penilaian yang jujur ​​tentang kemampuannya.
"Saya pikir saya memiliki kecenderungan untuk bermain Possum dan tidak agresif ketika saya memiliki mur atau fold ketika saya seharusnya melanjutkan," katanya. "Karena permainannya sangat kompleks, ada banyak bagian yang bergerak yang harus Anda pikirkan sekaligus. Saya pikir itu tantangan terbesarnya."
Colpaart memuji kursus poker Little dan kemampuannya untuk mengajarkan permainan dengan cara yang sederhana namun efektif.
"Saya masih sangat hijau," kata Colpaart tentang permainan pokernya menuju acara WSOP pertamanya. "Saya akan masuk dengan mata terbuka lebar. Saya memiliki banyak pekerjaan yang harus dilakukan. Permainan ini sangat menarik, Anda bisa mendapatkan dasar-dasarnya, tetapi begitu Anda mulai menyelami teori dan matematika, saat itulah mulai mendapatkan benar-benar menantang. Saya hanya akan tetap berpegang pada dasar-dasarnya sebanyak mungkin."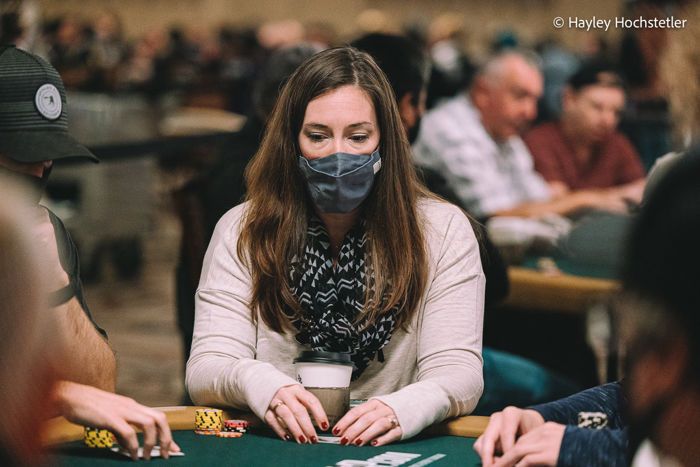 Ashley Colpaart dalam aksi WSOP untuk pertama kalinya.
Dalam persiapan untuk WSOP, dia memasuki permainan uang dua hari sebelumnya dan mengatakan dia merasa senang dengan cara dia bermain.
"Saya hanya perlu mengikuti intuisi saya dan bersenang-senang," katanya.
Sementara Colpaart memiliki hasrat yang kuat untuk poker, dia tidak akan berhenti dari pekerjaannya, bahkan jika dia memenangkan The Reunion, sebuah turnamen yang akan membayar uang yang mengubah hidup pemenangnya.
"Saya mendedikasikan lebih banyak waktu untuk bermain poker sebagai hobi sekarang, dan saya bercanda dengan suami saya tentang menjadi profesional."
"Bisnis saya adalah bayi saya," Colpaart memberi tahu kami. "Ini adalah perusahaan berbasis misi dan akan terus hidup di masa lalu saya. Tapi saya mendedikasikan lebih banyak waktu untuk bermain poker sebagai hobi sekarang, dan saya bercanda dengan suami saya tentang menjadi profesional."
Suami Colpaart, yang juga menggemari permainan itu, tak perlu khawatir istrinya menutup The Food Corridor demi bermain poker untuk mencari nafkah. Dia berkomitmen terlalu banyak darah, keringat, dan air mata ke dalam bisnis dan industri makanan untuk hanya pindah ke karir baru.
Meskipun dia tidak memiliki niat untuk menjadi pro, dia akan terus aktif di grup Fish Fry. Faktanya, beberapa anggota kelompoknya, yang sebelumnya tidak pernah dia temui secara langsung, sedang berkompetisi di Las Vegas dalam acara WSOP yang sama.
Sayangnya, Colpaart mengalami nasib buruk pada Hari 1b The Reunion beberapa jam setelah bermain. Dia punya
di papan
dan kehilangan seluruh tumpukannya karena
. Setelah itu, dia kecewa dengan permainannya dan mengatakan dia membuat "kesalahan" yang bisa mencegahnya kehilangan seluruh tumpukannya.
"Dengan semua persiapan, persiapan, dan kegembiraan, itu sangat memukul saya," dia mengirim melalui teks tak lama setelah busting. "Sejujurnya saya menangani kerugian saya dengan sangat baik, tetapi kali ini emosi menguasai saya."
Colpaart mengatakan dia merasa senang dengan bagaimana dia bermain sampai saat itu dan kecewa dia membiarkan kinerja yang kuat menjauh darinya. Pada catatan positif, dia akan memiliki kesempatan lain untuk masuk kembali pada hari Minggu ketika Hari 1c dimulai. Mungkin, kali ini dia akan memiliki
dan lawannya akan menjadi dingin dengan
.
Lihat Hub WSOP 2021 kami di sini!