03 Oktober 2021Jon Sofen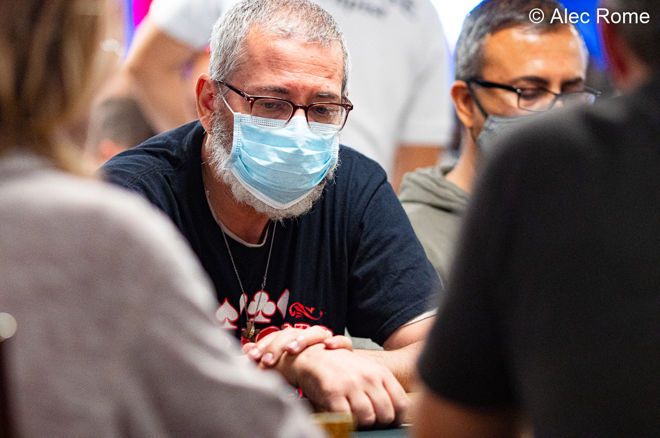 Pemain poker seumur hidup berusia 64 tahun Michael Muniz melakukan perjalanan yang tidak biasa ke Las Vegas untuk World Series of Poker 2021, pertama kalinya dia berhasil mencapai seri tersebut. Dan dia tidak bisa lebih gembira lagi untuk mewujudkan mimpi lama.
Penduduk Queens, New York sangat menyukai permainan poker dan WSOP sehingga ia menghabiskan lebih dari 60 jam perjalanan lintas negara hanya untuk bermain di The Reunion, turnamen hold'em buy-in tanpa batas senilai $500 dengan jaminan $5 juta ( dan, ya, jaminan terpenuhi).
Mengapa dia tidak menempuh rute biasa saja, melalui udara? Seperti yang dia jelaskan dalam wawancara istirahat makan malam di Rio dengan PokerNews, "Saya tidak terbang." Dia takut terbang dan mengatakan dia tidak keberatan menghabiskan lebih dari dua hari di kereta.
"Saya sangat beruntung, sekitar 20 jam lebih, kursi di sebelah saya kosong sehingga cukup nyaman," kata Muniz.
Dari Kecanduan Menjadi Sukses
Jalan Muniz menuju WSOP tidak semuanya mawar dan pelangi. Hidupnya menurun pada 1980-an ketika ia menjadi kecanduan obat-obatan berat. Dia pergi dari bekerja di Wall Street menjadi tunawisma, tidur di kereta, dan dia kehilangan segalanya.
Pada tahun 1989, dia ditangkap untuk pertama kalinya dan berada di titik terendah dalam hidupnya. Meskipun dia tidak bangga dengan pelanggaran masa lalunya, dia antusias karena dua hari lagi dari 32 tahun ketenangan.
"6 Oktober 1989, sejak itu saya tidak menyentuh bir, tidak ada obat-obatan, 32 tahun," katanya bangga.
Hidup menjadi lingkaran penuh bagi penggemar poker setelah dia berhenti menggunakan narkoba dan minum alkohol. Dia menghabiskan 24 tahun bekerja untuk kereta yang sama yang dia habiskan malam tak terhitung untuk tidur karena menjadi tunawisma. Kurang dari dua tahun yang lalu, dia pensiun sebagai pria yang sadar, penuh kehidupan, dan siap untuk menghabiskan tahun emasnya bermain poker.
Muniz kehilangan istrinya pada tahun 2014 dan ketika dia berbicara tentang dia, matanya berbinar. Dia tidak antusias tentang poker seperti dia, tapi dia tidak pernah menghalangi jalannya memainkan permainan yang dia sukai.
Pemain Poker Seumur Hidup
Muniz belajar bermain poker dari kakeknya ketika dia masih kecil. Sebagai orang dewasa, dia memiliki beberapa keberhasilan dalam turnamen taruhan rendah, setelah menguangkan lebih dari $ 38.000, termasuk skor terbesarnya, $ 12.316 untuk tempat kedua dalam acara Sirkuit WSOP 2015 di Massachusetts.
Setelah menghabiskan lebih dari 60 jam perjalanan ke Las Vegas dari New York dengan Amtrak, dia duduk di Acara #4: $500 The Reunion No-Limit Hold'em. Pada Hari 1c dari turnamen yang dijamin senilai $5 juta, dia tidak dapat memutar tumpukan dan maju ke Hari 2. Tapi dia kembali pada Senin pagi untuk memasuki Event #8: $600 No-Limit Hold'em Deepstack.
Kembali di New York, Muniz bermain dalam permainan poker lokal yang dijuluki "Klub Poker Anak Laki-Laki Besar." Dia dengan bangga mengenakan kaus klubnya di World Series of Poker. Peserta WSOP pertama kali juga sering mengunjungi Borgata di dekatnya, sebuah kasino milik MGM Resorts di Atlantic City. Tapi dia tidak terlalu sering memainkan permainan uang.
"Baru-baru ini, pada bulan Juni, saya bermain uang tunai," kata Muniz. "Saya yang terburuk di dunia dalam permainan uang. Saya bermain gila dalam permainan uang. Dalam turnamen, saya lebih sabar, saya hanya menunggu, saya bisa menggandakan di sini, saya bisa menggertak di sini. Masih banyak lagi strategi daripada uang tunai."
Dia mengatakan masalah terbesarnya dengan permainan uang adalah dia bisa pergi ke ATM dan kehilangan lebih banyak uang, sedangkan di turnamen begitu dia keluar, dia keluar.
Menang atau kalah, Muniz masih hidup, dia sadar, dia punya anak perempuan dan lima cucu yang dia cintai, dan dia bisa memainkan hobi favoritnya — poker. Selain itu, dia mewujudkan mimpinya, bermain di World Series of Poker. Satu-satunya hal yang tersisa untuk dia lakukan dalam perjalanan ini, selain uang tunai dalam suatu acara atau memenangkan gelang, adalah bertemu pemain poker favoritnya — Daniel Negreanu, Phil Hellmuth, dan Phil Ivey. Mungkin, dia akan mendapatkan kesempatan itu sebelum dia kembali ke New York minggu ini.