08 Oktober 2021Christian ZetzscheChad Holloway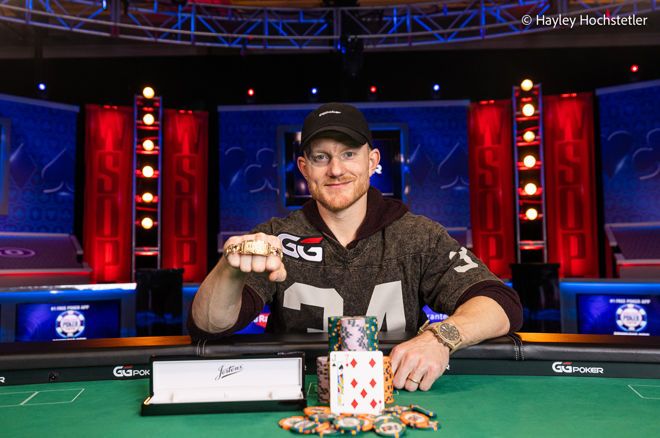 Seri Poker Dunia 2021 memahkotai pemenang gelang emas baru di Rio All-Suite Hotel & Casino pada hari Kamis ketika salah satu nama terbesar poker akhirnya bergabung dengan klub pemenang yang sulit dipahami. Dari 57 entri di Event #11: $25.000 Heads-Up No-Limit Hold'em Championship, pro poker Amerika Jason Koon keluar di atas duel yang sulit dengan Gabor Szabo dari Hongaria untuk melepaskan monyet itu dari punggungnya.
"Saya lelah, jujur. Istri dan semua orang telah melakukan banyak hal untuk membantu bayinya. Kami bangun jam 8:30 pagi hari ini membawanya ke janji dokter," kata Koon, yang menyambut putranya, Calum, ke dunia hanya dua minggu yang lalu. "Lalu saya datang ke sini dan memainkan beberapa stud. Head-up sangat intens, tapi ya, kami mengerti."
"Apakah kamu punya gelang?" Aku hanya seperti, 'Tidak.' Setidaknya saya akhirnya bisa mengatakan ya untuk itu.
Koon, yang berada di meja terakhir ketiga dari seri setelah menyelesaikan kesembilan di Roller Tinggi NLH $ 25.000 dan keenam dalam acara online pada hari yang sama, mengaku sedikit lega setelah akhirnya menangkap emas WSOP.
"Itu salah satu hal ketika Anda berada di pesawat dan seseorang seperti, 'Apakah Anda punya gelang?' Aku hanya seperti, 'Tidak.' Setidaknya saya akhirnya bisa mengatakan ya untuk itu," jelasnya. "Saya suka datang ke sini. Saya pikir saya akan bermain poker selamanya, dan ketika semuanya dikatakan dan dilakukan, saya pikir itu tidak dapat dihindari, saya akan memiliki beberapa di antaranya."
Acara #11: Hasil Kejuaraan Head-Up $25.000
TempatPemenangNegaraHadiah (dalam USD)1Jason KoonAmerika Serikat$243,9812Gabor SzaboHongaria$150,7903Henri PuustinenFinlandia$89,7874Daniel ZackAmerika Serikat$89,7875Mikita BadziakouskiBelarus$36,2806Bin WengAmerika Serikat$36,2807Amerika Serikat$36,2807Amerika Serikat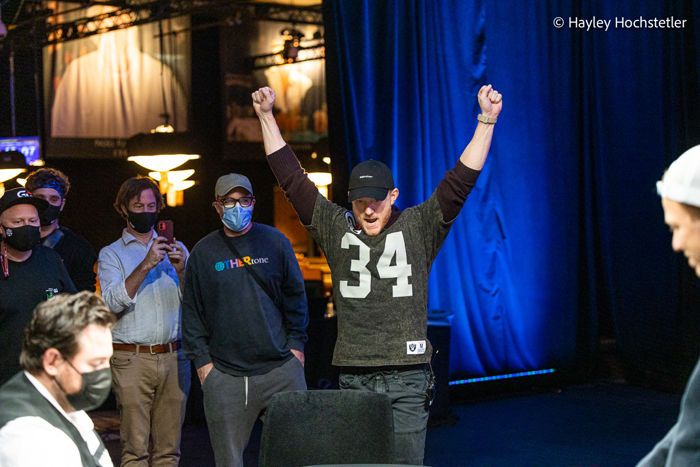 Jason Koon menyelesaikan pekerjaannya!
Delapan pemenang teratas dari braket 32 ​​pemain mendapatkan sebagian dari hadiah uang $721.625 sementara semua yang memenangkan pertandingan mereka di babak 64 juga mendapatkan pengembalian dana buy-in mereka.
Pemenang akhirnya Koon ada di antara mereka dan keluar di atas enam pertandingan head-up untuk mengklaim hadiah utama $243.981. Untuk Szabo, finis runner-up datang dengan hadiah hiburan sebesar $150.790 sementara semifinalis Henri Puustinen dan Daniel Zack menerima $89.787 atas usaha mereka.
"Ekspektasi saya rendah," kata Koon. "Kelelahan muncul, tetapi saya tidak merasa takut akan hal itu mungkin lain kali saya mengambil tempat kedua seperti yang saya rasakan di masa lalu pasti."
Pusat Pelaporan Langsung WSOP 2021
Ikuti semua aksi langsung seperti yang terjadi dari World Series of Poker 2021 di Las Vegas!
Sebelum duel terakhirnya dengan Szabo, Koon mengatakan "Saya tidak vlog, saya tidak streaming, saya hanya bermain game," dan itulah yang dia lakukan sepanjang turnamen tiga hari. Duta global GGPoker yang baru dibentuk mengalahkan Chris Brewer, Nicolai Morris, dan Johannes Becker untuk mencapai tahap uang.
Di babak delapan besar, ia hanya membutuhkan 13 menit untuk menyingkirkan Jake Daniels dan kemudian keluar sebagai pemenang melawan spesialis head-up Finlandia Henri 'buttonclickr' Puustinen dalam perjalanan ke pertandingan head-up terakhir.
Road to the FinalJason KoonGabor SzaboRound of 64Chris BrewerByeRound of 32Nicolai MorrisJohan GuilbertRound of 16Johannes BeckerDavid PetersRound of 8Jake DanielsMikita BadziakouskiRound of 4Henri PuustinenDan Zack
Setelah melewati Brewer dan Morris di dua ronde pertama, Koon menghadapi tantangan melawan spesialis permainan campuran Jerman dan mantan pemain head-up Becker. Dia membutuhkan beberapa double-up untuk tetap bersaing sebelum menutup duel dengan ace superior. Hambatan berikutnya adalah Daniels dan duo ini membangun pot sejak awal, yang kemudian mencapai puncaknya dengan sukses dengan ratu untuk Koon melawan raja ace yang cocok untuk Daniels.
Di semifinal, Puustinen yang berusia 21 tahun melakukan pertarungan sengit dan Koon sekali lagi membutuhkan keberuntungan di pihaknya untuk tetap bersaing. Dia mendapatkannya dengan double gutshot dan flush draw versus dua pasangan untuk kemudian menancapkan berlian lain di sungai. Puustinen menggandakan satu kali tetapi akhirnya disebut pahlawan pada waktu yang salah untuk mundur di semi final.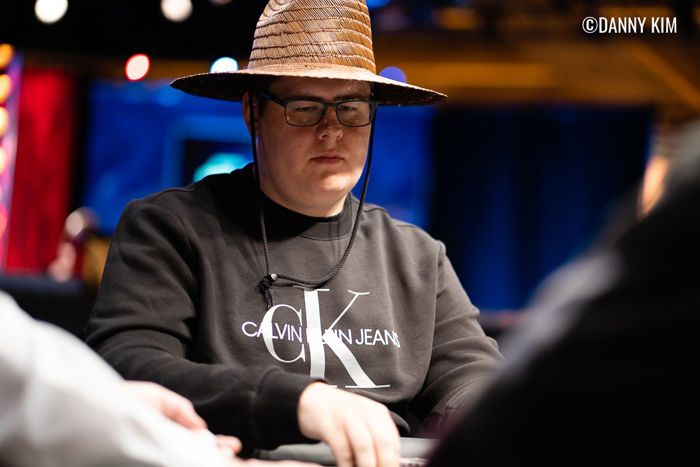 Henri Puustinen
Duel di sisi lain meja antara Szabo dan Zack berakhir beberapa saat sebelumnya. Setelah awal yang hati-hati, Szabo melaju menuju kemenangan dan memenangkan banyak pot besar untuk menghancurkan satu-satunya mantan pemenang gelang emas dalam pertarungan. Orang Hungaria itu berbelok ke broadway untuk meninggalkan Zack menggambar mati dan mengatur duel dengan Koon untuk hadiah poker yang paling dicari.
Duel terakhir Koon adalah perjalanan roller coaster di mana keunggulannya berubah beberapa kali. Keberuntungan ada di pihaknya ketika dia memenangkan flip dengan pocket five versus ace-queen yang cocok dan dia juga keluar sebagai pemenang dengan ace-queen melawan ace-jack dari Szabo untuk sebagian besar chip yang dimainkan. Itu berakhir segera setelah akhirnya mendapatkan monyet dari punggungnya. Mulai sekarang, nama Koon tidak akan disebutkan lagi di antara "pemain terbaik tanpa gelang WSOP."
Adapun apa yang akan dilakukan Koon selanjutnya, rencana terdekatnya adalah beristirahat dan menghabiskan waktu bersama keluarganya. Tentu saja, kembali ke perasaan itu sudah ada di pikirannya.
"Saya akan memainkan $50K, $100K, dan $250K. Saya mungkin memainkan Main Event, tetapi itu bahkan sangat tidak mungkin," katanya ketika ditanya tentang rencana WSOP-nya. "Saya akan jalan-jalan dengan bayi itu, dan saya pikir ada seorang pria yang datang ke kota akhir pekan ini yang ingin bermain antara $100K-$250K di ARIA, jadi saya akan menurutinya."
Selamat kepada Jason Koon, pemenang Acara WSOP 2021 # 11: Kejuaraan Heads-Up $ 25.000.
Lihat Hub WSOP 2021 kami di sini!
1 Dealer Caesars Palace Jimmy Barnett Dimahkotai Juara Karyawan Kasino2 Jesse Klein Memiringkan Hellmuth menuju 2021 WSOP $25K KUDA Menang seharga $552,1823 Jeremy Ausmus Memenangkan Gelang Emas Pertama dari Seri Dunia 2021 Poker4 Long Ma Tops Dekat Lapangan 13.000 Pemain untuk Menang Reuni dan Gelang WSOP Pertama5 Connor Drinan Memenangkan Gelang Kedua di Ajang #5: $1.500 Omaha Hi-Lo 8 atau Lebih Baik6 Tyler Cornell Mendapat Kemenangan Tanda Tangan di Tahun 2021 Acara WSOP #6: $25.000 High Roller ($833.289)7 Jaswinder "Jesse" Lally Menang 2021 Acara WSOP #7: $1.500 Dealer Choice 6-Handed ($97.915)8 Aces di Tangan Terakhir saat Zhi Wu Memenangkan Acara #8: $600 Deepstack ($281.604)9 Michael Perrone Menangkan Acara WSOP 2021 #10: $1.000 Super Turbo Bounty Tanpa Batas Hold'em ($152.173)10 Jason Koon Memenangkan Gelang WSOP Gadis di Acara #11: Kejuaraan Heads-Up $25K ($243.981)11 Ari Engel Memenangkan Gelang WSOP Kedua di Kejuaraan Omaha Hi-Lo 8 $10.000