04 Oktober 2021Daniel O'Hair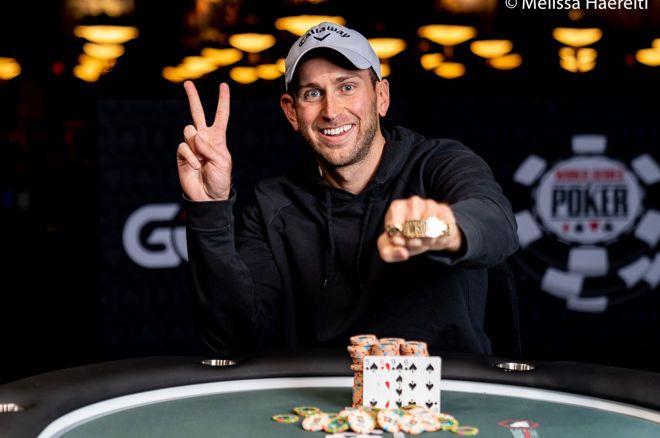 Connor Drinan menurunkan gelang emas WSOP karir keduanya dan hadiah tempat pertama senilai $163,252 pada Minggu malam setelah mengalahkan Travis Pearson secara langsung dalam pertarungan bolak-balik di Acara #5: $1,500 Omaha Hi-Lo 8 atau Lebih Baik.
Profesional poker berusia 32 tahun itu tetap rendah hati dalam kemenangan.
"Saya hanya memainkan permainan normal saya dan berlari dengan baik," kata Connor ketika ditanya tentang kemenangannya.
Drinan, yang mengaku telah bermain poker sejak ia masih mahasiswa baru di sekolah menengah, telah mengumpulkan lebih dari $11 juta pendapatan karir menurut The Hendon Mob. Skor karir terbesar Drinan datang hanya tahun lalu setelah mencatat acara Super Millions $ 10K Online WSOP Online 2020 di GGPoker dengan harga lebih dari $ 1,4 juta dan gelang emas pertama.
Pusat Pelaporan Langsung WSOP 2021
Ikuti semua aksi langsung yang terjadi dari World Series of Poker 2021 di Las Vegas!
Acara #5: $1.500 Omaha Hi-Lo 8 atau Hasil Tabel Akhir Lebih Baik
PlacePlayerNegaraHadiah (USD)1Connor DrinanAmerika Serikat$163,2522Travis PearsonAmerika Serikat$100,9013Robert MizrachiAmerika Serikat$71,6024Sandy SanchezAmerika Serikat$51,5905Micah BrooksAmerika Serikat$37,7506Carl LijewskiAmerika Serikat$28,0597Amerika Serikat$28,0597Kris Kwiatokowski Amerika Serikat BuchalterAmerika Serikat$10.072
Momen Viral WSOP 2021: George McBride Menangis Air Mata Kegembiraan Setelah Menguangkan Reuni
Hari 3 dimulai dengan 15 pemain dalam pertarungan tetapi dengan cepat menyusut ke tabel final 10 setelah lebih dari dua jam bermain karena pemain dengan tumpukan pendek dengan cepat tersingkir.
Drinan masuk ke Hari 3 dan meja final sebagai pemimpin chip, yang juga menampilkan pemenang gelang WSOP empat kali Robert Mizrachi. Drinan mengatur nada lebih awal dengan menghilangkan Yehuda Buchalter tak lama setelah permainan meja final dimulai. Namun, Drinan akan kehilangan posisi chip teratasnya di beberapa poin selama tabel final saat permainan berlanjut.
Runner-up akhirnya Pearson mampu mengumpulkan chip di seluruh meja final karena ia memiliki andil dalam menyingkirkan Kris Kwiatkowski (tempat ke-7) dan Micah Brooks (tempat ke-5).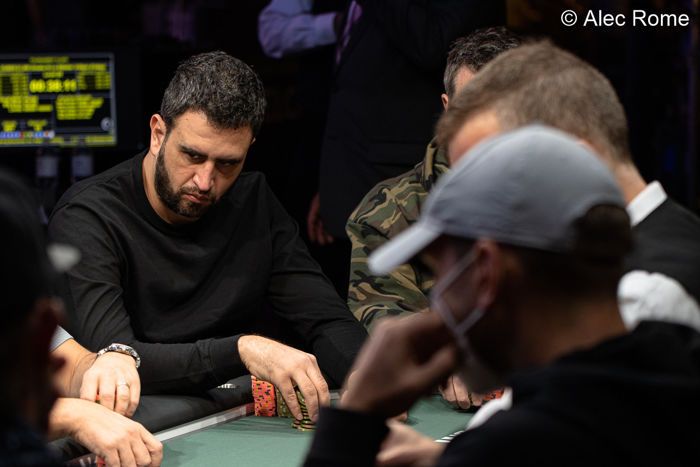 Robert Mizrachi
Hal-hal sebenarnya tampak menjanjikan bagi Mizrachi setelah dia meraup pot besar melawan Drinan dan Curtis Phelps, tetapi dia tidak dapat mempertahankan momentum itu dan jatuh di tempat ketiga — sebagian besar berkat pot kunci di mana Drinan memanggil dengan benar melawan Mirazachi di sungai dalam a pot besar.
"Kemenangan ini didedikasikan untuk Mike Fasco atas pelajaran O/8 yang mahal"
Permainan head-up dimulai dengan Drinan menikmati keunggulan chip hampir tiga banding satu atas Pearson, tetapi Pearson tidak akan menyerah tanpa perlawanan. Pearson menyamakan kedudukan setelah mengebor straight flush dan bahkan mengambil alih keunggulan chip setelah memanggil Drinan ke dalam pot besar di mana Drinan mengotori pertarungan.
Namun, Drinan akhirnya akan kembali memimpin chip setelah memenangkan serangkaian pot dengan tirai yang meningkat dan menyelesaikan pekerjaan setelah membuat Pearson semua gagal dan melakukan dua pasangan melawan pasangan teratas Pearson.
"Kemenangan ini didedikasikan untuk Mike Fasco untuk pelajaran O/8 yang mahal," tambah Drinan.