04 Oktober 2021Matthew Pitt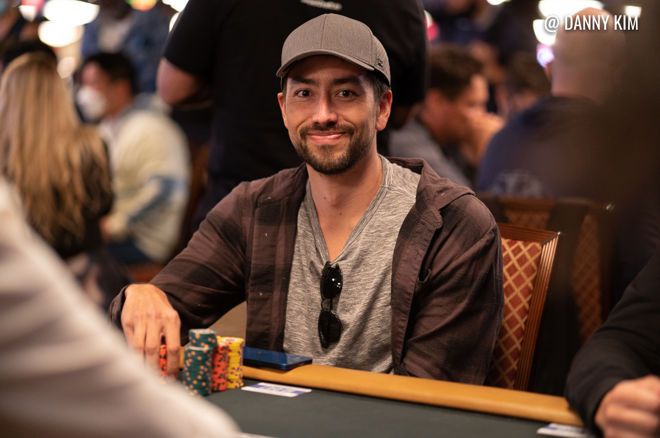 Seri Poker Dunia (WSOP) 2021 baru berumur empat hari namun menghasilkan beberapa aksi luar biasa di Las Vegas, Nevada. 3 Oktober melihat tiga gelang diberikan, High Roller $ 25.000 mengurangi bidangnya menjadi hanya lima calon, dan Dealers Choice bertabur bintang $ 1.500 maju ke Hari 2.
Connor Drinan adalah yang pertama dari tiga pemenang gelang pada Hari 4. Drinan adalah orang terakhir yang bertahan di Acara #5: $1.500 Omaha Hi-Lo 8 atau Lebih Baik, yang membuatnya mendapatkan gelang emas WSOP keduanya.
Martin Zamani memenangkan gelang keduanya ketika ia menang di Gelang Online WSOP.com (NV/NJ) $ 5.300 NL Hold'em Freezeout, sementara "NJ_AcesmarkA" menurunkan Gelang Online WSOP.com (NV/NJ) $ 500 NL Hold'em 500 BESAR.
Teruslah membaca untuk mengetahui apa yang terjadi dalam acara yang sedang dimainkan.
Pusat Pelaporan Langsung WSOP 2021
Ikuti semua aksi langsung yang terjadi dari World Series of Poker 2021 di Las Vegas!
Tyler Cornell memimpin Lima Final di High Roller $ 25.000
Ini adalah kesempatan terbaik Tyler Cornell untuk menjadi juara WSOP. Orang California itu memiliki uang tunai WSOP sejak 2010, tetapi kemenangan menghindarinya.
Cornell tidak hanya mencapai meja final dari acara High Roller No-Limit Hold'em $ 25.000, tetapi menemukan dirinya memimpin dengan hanya lima pemain yang tersisa. Cornell memiliki 7.455.000 chip saat permainan dilanjutkan, dengan Michael Liang berada di urutan kedua dengan 5.140.000 chip.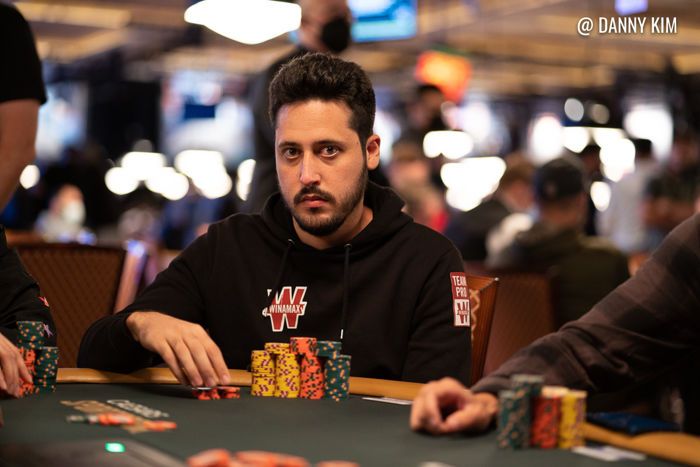 Adrian Mateos sedang mencari gelang keempatnya
Sementara Cornell memiliki satu tangan di gelang, tidak ada paket pengejar yang akan menyerah tanpa perlawanan. Liang yang disebutkan di atas paling dekat dengan Cornell, sementara orang-orang seperti Jonathan Jaffe (3.650.000), Mustapha Kanit (2.630.000), dan juara WSOP tiga kali Adrian Mateos (2.180.000) masih dalam perburuan.
Acara#6: Jumlah Chip Hari Terakhir Hold'em High Roller Tanpa Batas $25.500
PlacePlayerChips1Tyler Cornell7,455,0002Michael Liang5,140,0003Jonathan Jaffe3,650,0004Mustapha Kanit2,630,0005Adrian Mateos2,180,000
Masing-masing pemain dijamin $ 216.842 untuk upaya mereka sejauh ini, yang mendorong kemenangan seumur hidup Cornell melalui penghalang $ 1 juta. Namun, $833.289 dan gelang menunggu juara akhirnya, jadi tidak ada yang mau membawa pulang jumlah yang lebih rendah.
$25.000 Pembaruan NLHE High Roller ada di sini!
Mike Takayama Puncaki Jumlah Chip 1c Hari Reuni
Mike Takayama
Mike Takayama menjadi pemain pertama dari Filipina yang menjadi juara WSOP ketika ia memenangkan $1.000 No-Limit Hold'em Super Turbo Bounty pada tahun 2019. Takayama mengalahkan bidang 2.065 hari itu, dan dinobatkan sebagai juara di ruang Brasilia Rio .
Sekarang Takayama telah menduduki puncak jumlah chip pada Hari 1c The Reunion, melakukannya di, Anda dapat menebaknya, ruang Brasilia!
5.871 pemain lainnya membeli pada Hari 1c, menjadikan total kehadiran menjadi 12.975, yang berarti jaminan $ 5 juta dilampaui oleh $ 449.500. Hanya 286 starter Hari 1c yang berhasil lolos ke Hari 2, termasuk Javier Fernandez, Adrian Buckley, Joseph Cheong, dan Will Givens.
Acara #4: $500 Hari Reuni 1c 10 Jumlah Chip Teratas
PlacePlayerChips1Mike Takayama4,575,0002Anthony Cass2,990,0003Javier Fernandez2,975,0004Jose DeLaGuardia2,930,0005Katsushi Yoshida2,755,0006Michael Zoneashvili2,740,0007Bin Liu2,685,0008Ryan Vanderpoorten2,665,0009Adrian Buckley2,600,000,480,000than Holman
Hari ke-2 The Reunion bergerak dan deal pada pukul 10:00 waktu setempat, dan melihat 619 pemain kembali ke tempat duduk mereka. Tujuh belas level 40 menit direncanakan meskipun turnamen akan berhenti jika lapangan dikurangi menjadi hanya lima pemain. PokerNews akan bersama Anda di setiap langkah dalam turnamen berukuran monster ini.
Jangan lewatkan setiap aksi The Reunion
Gamble memimpin Host of Star di Acara Pilihan Dealer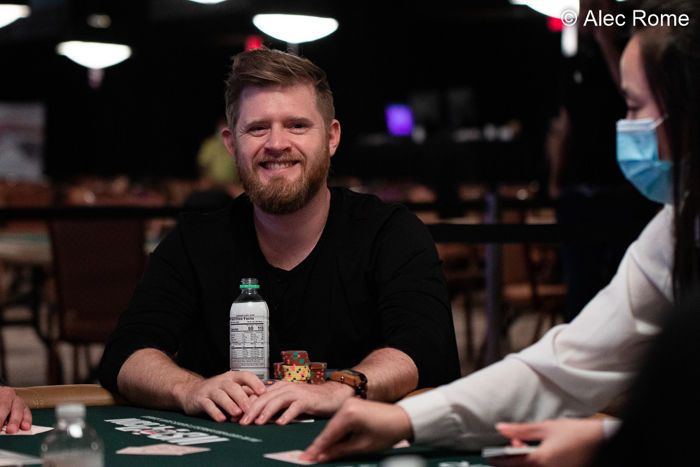 Nathan Gamble
Nathan Gamble memenangkan acara Pot Limit Omaha Hi-Lo $1.500 pada tahun 2017 dan mendapatkan gelang keduanya pada tahun 2020 ketika ia memenangkan acara Pot Limit Omaha Hi-Lo $600 secara online di WSOP.com. Sekarang Gamble memiliki peluang sah untuk menjadi juara WSOP tiga kali berkat jumlah chip teratas dalam acara Pilihan Dealer $1.500.
Sekitar 307 pemain membeli pada Hari 1, jumlah berkurang menjadi hanya 88 pada saat level ke-15 berakhir. Gamble melonjak ke puncak jumlah chip berkat 234.500 tumpukannya. Sejumlah bintang poker elit akan bergabung dengan Gamble pada Hari 2.
Mereka termasuk tetapi tidak terbatas pada, sesama pemenang gelang Andrew Donabedian (224.000), Duta Besar GGPoker Daniel Negreanu (115.500), Matt Glantz (115.000), John Racener (100.500), Ryan Hughes (100.500), Eli Elezra (90.000), Phil Hellmuth (88.500), dan Brian Rast (81.500)
Acara #7: $1.500 Pilihan Dealer 10 Jumlah Chip Teratas
PlacePlayerChips1Nathan Gamble234,5002Andrew Donabedian224,0003Ray Henson216,0004Joshua Silberstein206,0005Ian Ohara201,0006Timothy Philip194,5007Joshua Rhodes188,0008Christopher Linder184,0009Kosei Ichinose168,50010Hal Rotholz163,000
Permainan dilanjutkan pada tanggal 4 Oktober pukul 15:00 waktu setempat dan melihat sepuluh level 60 menit lainnya dimainkan. 47 pemenang teratas memenangkan bagian dari kumpulan hadiah $ 409.845.
Dapatkan perbaikan permainan campuran Anda dengan pembaruan Pilihan Dealer $1.500 kami
Apa yang Ada Di Toko Untuk Hari 5 dari WSOP 2021?
Hari 5 WSOP 2021 penuh dengan aksi. Ini tidak hanya memiliki acara The Reunion, $25,00 High Roller, dan $1,500 Dealers Choice yang berbaris menuju penobatan juara mereka, tetapi dua acara baru dimulai.
11:00 melihat Event #8: $600 No-Limit Hold'em Deepstack dimulai. Jeremy Pekarek memenangkan acara ini pada tahun 2019 dan pergi dengan $398.281 dan gelang emas mengkilap.
Kemudian, pada pukul 15:00 waktu setempat, Event #9: $10,000 Omaha Hi-Lo 8 or Better Championship dimulai. Frankie O'Dell adalah juara bertahan, setelah mendapatkan bayaran $443.641 saat acara terakhir berjalan pada tahun 2019.
Seperti biasa, PokerNews adalah tempat Anda akan menemukan semua pembaruan dari setiap acara WSOP 2021.
Waktu (PT)Acara10:00 amEvent #4: $500 Hari Reunion 211:00 amEvent #8: $600 Tanpa Batas Hold'em Deepstack Hari 13:00 pmEvent #7: $1,500 Dealers Choice Hari 6 Tangan 23:00 Acara # 9: $10,000 Omaha Hi-Lo 8 atau Hari Kejuaraan yang Lebih Baik 14:00 soreAcara #6: $25.000 High Roller Tanpa Batas Hold'em 8-Handed Hari Terakhir